We spoke to the founder of the Sociology on the Syllabus campaign, Alex Buckley.
The goal of their campaign is to have sociology introduced as a KS3 subject in the UK, giving students better skills to deal with data and having a better awareness of the society which they live in.
Why did you decide to start this campaign?
I started this campaign in my head some time in 2016, but officially we were off the ground in July 2020. It occurred to me in 2016 whilst I was doing my degree that I had learned so many fundamental skills during my sociological studies; ones which I had not even touched on whilst studying other core curriculum subjects, that it made absolutely no sense that sociology didn't feature as part of those core subjects which we're taught as we're developing the key life skills we take with us.
I got the kick up the bum I needed to get this on to the internet in July 2020, after the BLM protests had occurred. We live in such a divided society and this became very clear around then. I really believe that if people were given the opportunity to learn about the root causes of division and the lived experience of people who they perceived to be different to them, it would go an awfully long way to creating more cohesive thinking amongst citizens.
What are some of the most interesting things you've learned studying sociology for the last 9 years?
I haven't technically been studying for the last two years but once you've been gifted the sociological imagination, you're always learning, observing and theorising. In those 9 years, my favourite things to study were the traditional sociological perspectives of society (structural functionalism, symbolic interactionism and conflict theory).
I look at everything through these lenses now as a reflex, particularly the latter two, and it's really nice to have a framework to use to think about and explain things that seem incomprehensible sometimes.
What would it look like, in an ideal world, having sociology on the KS3 syllabus?
I resolutely do not think it's up to me; in an ideal world, once this campaign has made considerable headway and reached enough people, we would recruit a diverse panel of sociologists to make recommendations about what could and would be covered.
Criticism exists about the current sociological curriculum; that it is over-populated by outdated thinking, so this is something which we would definitely not overlook. Sociology is the study of society and it needs to reflect the changing nature of it.
What are the main obstacles in the way of your campaign's success? How can they be overcome?
The main obstacle is probably the lack of awareness of what sociology is or how it could be of benefit to students. I think people often consider it to be a Mickey Mouse subject because they don't really understand what it is – as my Grandma likes to quote from the 80's TV ad, "It's an 'ology!". The Gran in the ad (not my Gran) then goes on to console her disappointed grandson, who has failed his exams, by exclaiming "You get an 'ology, you're a scientist!". This makes me both chuckle and want to cry at the same time, because that really sums up how people view social science.
We accept that maths and biology are crucial to the development of the modern world, because they are the studies which favour 'objectivity' and 'fact' and produce tangible findings which advance fields like medicine and engineering. But when we think about policy, about Big Data, about media and countless other fields which shape the way we experience our lives, every single day, how do we imagine this is being developed?
The answer is through the social sciences, by sociologists, data scientists and social researchers. Sociology has existed for too long as an underutilised subject, but now is the time to get the word out about how important it is, and how much benefit it could bring to society if the social scientists and policy makers and data analysts of tomorrow are given the opportunity to be inspired by sociology from the age of 11.
The other small obstacle is that I need to eat so I have a job and do this in my spare time, and so don't have all the hours in the day to devote to getting the word out.
What does the future of your campaign look like?
The next step in the campaign is to secure a meeting with the Education Secretary, to convince them that this is a worthwhile cause. We also want this to be considered for a debate in parliament, so the government can go about changing National Curriculum policy. To do this, we need 100,000 signatures, which is nothing when you think of the 67 million of us all sitting around doing nothing for the next month during lockdown. Surely getting 0.15% of the UK population to enter their email address and a few details into the parliament petitions website is a breeze, you say? Unfortunately it isn't, which is why I need help!
I want to put together a team of sociologists who are passionate about making this happen, to help promote, organise and lobby. I know how devoted and clever and creative social scientists can be, from working among them for the best part of the last decade. I need to channel these people's resources so this campaign can gain the traction it needs to be taken seriously.
Lastly, what can we do to help?
I'm looking for help in any shape or form that people can offer it in. I'm looking for volunteers to work on the campaign with me, so if this is something you or someone you know would be interested in (whether you are a student or the Director of a think-tank or if you read Animal Farm ages ago and thought it was making a good point), please get in touch with me.
If working on the campaign sounds a bit intense or you wouldn't know where to start, simply signing the petition and sending it on to a few friends, or sharing in on Twitter, would also be a huge help.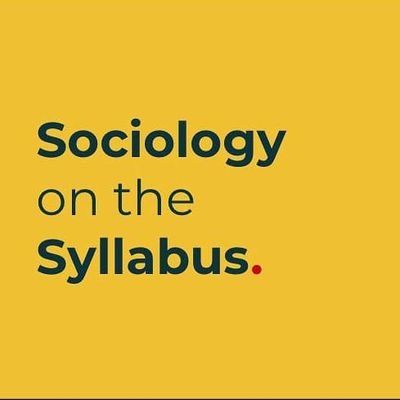 Thanks to Alex for talking to us about this! Don't forget to sign this petition to do your bit.
You can follow them on Twitter and Instagram or have a look at their website for more information.
Words by Briony Brake with answers from Alex Buckley
Images from the Sociology on the Syllabus campaign